Welcome to V For Vanilla!
Welcome to V For Vanilla, a semi-anarchy survival server aiming to provide gameplay as close to pure vanilla as possible.
Rules, restrictions and modifications are kept to a minimum to ensure maximal freedom for all players to play the game the way it was meant to be played. There are no map resets, the world border is at the default of 30 Million blocks. While technically not disallowed, the netherroof has void damage enabled to encourage regular travel and exploration.
Hardware
The server is hosted in Finland. Monthly upkeep is 64€. We run on an Intel Core i7-8700 with 64GB of ram and 2x6TB of disk space in raid I.
Server Rules
Do not use cheat or hacked clients.
Do not use 'vanilla' cheats like xray texture packs.
Do not abuse exploits, which affect the playability of the game for others.
Do not attempt to lag the server.
Duplication exploits are not allowed, with the only exception of TNT duping. Falling block, carpet or any other dupe are NOT allowed.
Do not threaten or harass anyone over issues that go outside the server. What happens on V, stays on V.
Do not dox or share personal information about anyone.
Failure to comply with these rules will result in a 3 month ban on first offense, permanent on repeated offense. Breaking rule 6 or 7 will result in a permanent ban.
Discord Rules
Follow Discord Community Guidelines
Do not use slurs or discriminatory behaviour in any channels.
Do not spam the channels, unless specified otherwise in any given channel.
Do not dox or share personal information about anyone.
Failure to comply with these rules will result in a temporary mute. Breaking rule 4 will result in a permanent ban.
Donate
Running a server is both costly and time intensive. If you enjoy the server and would like to support it, donating is always very appreciated. All donations are used exclusively to cover hosting costs. We currently accept donations via Ko-Fi, PayPal and BuyMeACoffee
Rewards
Donators can choose a colored name both on the server and on discord according to the table below. Donations are cumulative, meaning two 5€ donations will let you pick colors from both the 5€ and the 10€ tier.
| | |
| --- | --- |
| 100€ | Black |
| 50€ | Dark Red Dark Purple Gold |
Vote
Voting helps the server grow! By voting on MCSL you help new people find the server.
Rewards
As a reward, for every 10 votes, you will be able to add a colored name as well as custom lore to an item of your chosing.
By running the /lore command, you can see how many votes you have accumulated. Below is an example of how you could use it: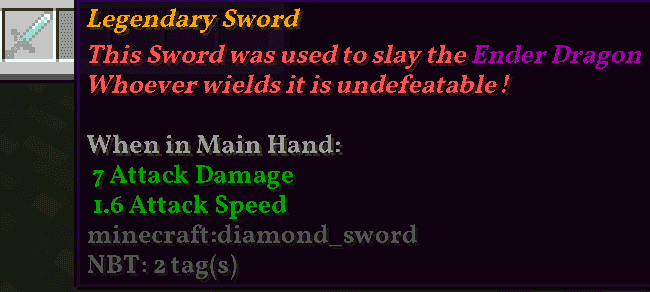 /lore apply "&6Legendary Sword" "&cThis Sword was used to slay the &5Ender Dragon" "&cWhoever wields it is undefeatable!" Using /lore apply you can add lore to the item currently in your hand. Each line is surrounded by quotes. The first line will be the name of the item. All following ones will each be one line of lore in the item description. You can use Minecraft color codes with the & symbol.

/lore sign "&2Delicious Apples" "&aThese apples are incredibly delicious" Using /lore sign instead will add your name to the end of the lore. Unlike the rest of the lore, your name will not be italic, and thus prove that you signed that item.
Color Codes
&0 - Black &1 - Dark Blue &2 - Dark Green &3 - Dark Aqua
&4 - Dark Red &5 - Dark Purple &6 - Gold &7 - Gray
&8 - Dark Gray &9 - Blue &a - Green &b - Aqua
&c - Red &d - Purple &e - Yellow &f - White
News
2023-12-04
V For Vanilla turns two years old! To celebrate, a dragon race event is held on a separate server.
2023-10-17
We are now on 1.20.2
2023-09-27
A wiki has been added.
2023-06-12
We are now on 1.20.1
2023-05-17
Ko-Fi has been added to the donation options.
2022-12-25
We are now on 1.19.3
2022-12-04
V For Vanilla turns a year old! An event with 3 minigames is held on a separate server. The winners of each receive a V mug.
2023-11-25
Buy Me A Coffee is now a donation option.
2022-09-14
We are now on 1.19.2. Chat reporting is bypassed and disabled.
2023-09-08
50% sleep has been enabled.
2023-06-21
We are now on 1.19
2023-03-13
We are now on 1.18.2
2022-01-29
There is now void damage on the nether roof. The /tps command can now be used by players.
2021-12-04
V For Vanilla officially opens today!
2021-11-29
The temp map is now closed.
2021-11-07
A temporary map is online until the actual launch of the server.